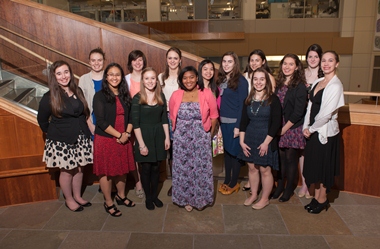 The National Committee for Women and Information Technology awards the Aspirations in Computing Award that honors high school women who are active and interested in computing and technology, and encourages them to pursue their passions.  Any US high school woman in grades 9 through 12 is eligible to apply. Aspirations Award recipients are chosen for their outstanding aptitude and interest in computing, proven leadership ability, academic performance and plans for post-secondary education.
For more information about Aspirations in Computing:
______________________________________________________________________________________________________________

National Center for Women & Information Technology (NCWIT) works to correct the imbalance of gender diversity in technology and computing because gender diversity positively correlates with a larger workforce, better innovation, and increased business performance. Increasing the number of women in technology and computing also has the potential to improve the design of products and services to better serve a more diverse population, and increase economic and social well-being by providing more women with stable and lucrative careers.  The NCWIT Aspirations in Computing program is a national talent development initiative for young women in computing and information technology, from 5th grade through graduate school. The Aspirations program is supported nationally by AT&T, Bank of America, Bloomberg, Google, Hewlett-Packard, Intel, Microsoft, Motorola Solutions Foundation, Northrop Grumman, and Broadcom.
In Connecticut, we have received financial support from the following companies; Pfizer Inc , EMC ,and Travelers Insurance .  Companies may contribute any amount but we offer the following levels:
Platinum – $2000
Gold – $1500
Silver – $500
Middle School Outreach:
AspireIT K-12 Outreach Program – Aspire IT programs are created by high school and college women to help exposes middle school girls to computing and technology.
High School Program:
Award for Aspirations in Computing  – Provides awards to high school girls interested in computing and technology and encourages them to pursue their passion.  Connecticut Award winners and runner-ups may be eligible for scholarships from the University of Connecticut, School of Business –  Operations & Information Management  department and the University of Saint Joseph.  Also as a part of the Next Generation Connecticut initiative, UConn has development the STEM Scholars program for high achieving students applying to a STEM major.  These students will have the opportunity to be selected as a STEM Scholar. In addition to receiving a scholarship, UConn STEM Scholars have the freedom to choose a course of study in numerous STEM fields and receive unique resources, benefits, and opportunities to enhance and support their academic pursuits.  Please visit STEM at UConn to learn more.
College Students:
Collegiate Award – Honors outstanding undergraduate women for their computing and technical accomplishments. Awardees receive $7,500 cash award and recognition at the annual NCWIT Summit.
AspireIT K-12 Outreach Program – This near peer model provides funding to high school and college women to help expose middle school girls to computing and technology.
Aspirations in Computing Community – Provides college students with information, peer and professional networking, as well as support and encouragement for more than 3,300 technical young women from over 575 corporations, non-profits, and academic institutions. Technical young women are invited to reunions, meet-ups, and webinars hosted around the country, in addition to exclusive access to technical projects, internships, and jobs
Educators:
Aspirations in Computing Educator Award – Recognizes teachers, counselors, administrators, mentors, and other educators who make a special effort to support girls' interest in technology and promote gender equality in computing.
The University of Connecticut, School of Business is an Academic Alliance institution with NCWIT