Leadership Development
Leadership and career development are vital and important components of the student experience in the School of Business.
Through participating in programming that supports those areas, students will learn leadership characteristics which are essential to prepare for future roles as global leaders.
"Leadership and learning are indispensable to each other"
-John F. Kennedy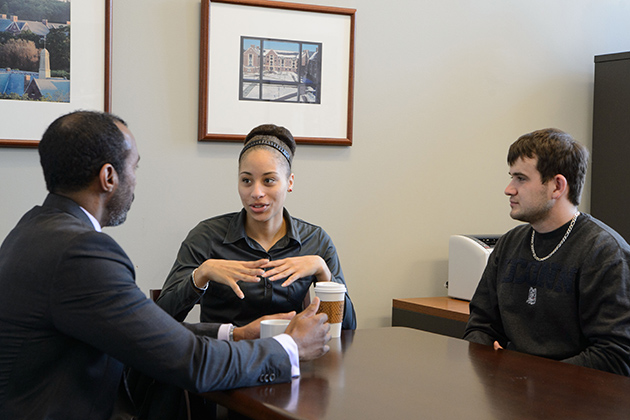 Schedule An Appointment
Do you have questions about scholarships, leadership development programs, academics, internships or getting into the School of Business? Schedule an appointment.  
| | | |
| --- | --- | --- |
| Mondays | West Hartford Campus   | 10am - 2pm |
| Tuesdays | Storrs Campus | 1pm - 3pm |
| Wednesdays  | Storrs Campus | 10am - 12pm  |
| Thursdays | Storrs Campus | 11am - 1pm |
Summer Programs
Barclays Sophomore Springboard is a one day program for talented, motivated undergraduate sophomores an opportunity to visit our New York office and explore career opportunities in Banking, Equity Research, Public Finance and Sales & Trading.  The target is women and ethnically diverse students with a 3.2 or higher.  Open to all majors.
Barclays Freshmen Foundation is a one day program for freshmen that provides the opportunity to participate in a series of sessions, hear from Barclays leaders, meet potential colleagues and start preparing yourself for your future career. You'll also be connected with a dedicated business mentor, who you'll be able to keep in touch with well after the program ends. Freshman Foundation is designed to attract and educate high-achieving, underrepresented candidates, including female, Black, Hispanic/Latino, Native American and LGBTQAI students, as well as veterans and students with disabilities. 
Barclays Junior Success is a two day program for the fall semester of the junior year.  As a junior, you're thinking ahead to life after graduation. It's time to expand the skill set needed to make the start of your career in financial services a great one. Along with skill-building sessions, Junior Success includes the chance to interview for our 2016 Analyst Internship Program in the business division you prefer. Attendees are also eligible to interview for our Inspiring Excellence Scholarship, which awards exceptional students up to $10,000 for tuition and academic expenses. Junior Success is designed to attract and educate high-achieving, underrepresented candidates, including female, Black, Hispanic/Latino, Native American and LGBTQAI students, as well as veterans and students with disabilities. This program is open to all majors, but successful applicants should demonstrate a strong desire to explore a career in Banking, Sales & Trading, Public Finance or Research.
Barclays MBA Ambition -  To qualify, you must be admitted to start a U.S. MBA program starting in fall 2016 and be available for a summer internship in 2017. If you're a dedicated and motivated MBA candidate – and you've already decided your future is in financial services – apply for Barclays MBA Ambition. This program gives talented MBA candidates the opportunity to secure a summer internship with a world-class financial institution before they even step into business school. That way, they can spend the school year focused on studying, not recruitment.
Stanford Graduate Business School's Future Leaders Program is a three-day residential event hosted by the Stanford Graduate School of Business and corporate sponsors in the San Francisco Bay Area that introduces college students from diverse backgrounds to an MBA education and post-MBA career opportunities. Visit the website for details on the application process and criteria for selection.  This program is for rising juniors (current sophomores) with a 3.0 or higher and is open to all majors.
The Emerging Leaders Summit: brings together student leaders from across North American.  You'll hear presentations by EY's global leaders, participate in interactive workshops, engage in team building activities and more! The event will take place over three days.
Minority Access National Diversity & Inclusion Internship Program - The Minority Access National Internship Program is designed to allow talented undergraduate and graduate students experience the diversity and scope of career opportunities available in the federal government and other participating entities. The program provides students with the opportunity to merge academic theory with practical application in the workplace.
Surety and Fidelity Industry Intern and Scholarship Program for Minority Students (SFIISP) - Established in 2003, the Surety and Fidelity Industry Intern and Scholarship Program for Minority Students provides awards of up to $5,000 to outstanding minority students to support their studies in the areas of insurance/risk management, accounting, economics, or business/finance and to encourage their consideration of the surety industry and surety/fidelity underwriting as a career choice.
NextGen Leaders Program - It's your career. Are you ready to accelerate it? Prepared to work with mentors and coaches who know how to stay ahead of the latest trends in business? Looking to build high performance leadership skills? And capable of bringing new ideas and a unique perspective to every assignment? Then the NextGen Leaders Program at Deloitte may be right for you. It can help you get more from your skills, talent, and education.
Amplify Leaders Program with Deloitte - Deloitte is excited to host qualified and selected students to attend the Deloitte's Amplify Program. During this day event in a local office, you will be involved in sessions geared towards developing leadership, team-building, and interpersonal skills. You will also have the opportunity to learn more about life in professional services.  Open to freshmen and sophomore with a 3.0 or higher who are Accounting, MIS or Undecided Business majors.
Organizational Science Summer Institute is a component of the interdisciplinary Organization Science Ph.D Program at the University of North Carolina at Charlotte and is recommended for those students interested in learning more about pursuing graduate studies.  It designed to increase diversity and opportunity in higher education.
Pioneer Internship - designed for freshman level summer interns, gives interns first-hand exposure to the professional services industry, allowing you to learn new business skills and deepen your knowledge of your field of interest. During this six-week long experience, you'll have the opportunity to foster business relationships with Deloitte professionals and acquire the critical and soft skills needed to succeed in the modern workplace and global marketplace.
Goldman Sachs Undergraduate Camp - Goldman Sachs Undergraduate Camp is an interactive four-day program for Black, Latino/Hispanic, Native American or female college freshmen of all majors. This program is designed to expose them to the financial services industry and allow them to explore its numerous career paths. The program features challenging and interactive case studies, group projects, technical and soft skills training, and networking with Goldman Sachs professionals.
Discover GS Undergraduate Camps - The Discover GS Camps are one day programs for students interested in exploring the numerous career paths in the financial services industry and familiarizing themselves with the firm's business, history and culture. The program features divisional overviews, case studies, career workshops and networking with Goldman Sachs business and recruiting professionals. This event is open to freshmen or sophomore Black, Hispanic, and Native American students from all majors and disciplines.
Goldman Sachs Pride Summit - A one-day introduction for undergraduate sophomores, juniors and first year MBAs. Participants learn how to navigate the summer intern recruiting process, participate in career workshops and meet with members of the firm's Lesbian, Gay, Bisexual, and Transgender Network.
GE Early Career Leadership Programs (various programs available depending on you major and career interests) - Develop your leadership and technical skills through challenging assignments and world class training. Start building your career with us today.
Harvard Business School (HBS) Summer Venture in Management Program (SVMP) is a one week management training program for rising college seniors designed to increase diversity and opportunity in business education. This unique educational experience helps participants develop a broader understanding of the challenges business leaders face, the many dimensions of the business world, and the impact they can have on their community and the world through business leadership.
JumpStart Diversity Forums: The Diversity Forums are open to freshman, sophomore and junior undergraduate students attending an U. S. academic institution. International students are also encouraged to apply. The forums are designed for students to explore career opportunities, network and build relationships with a number of firms in the financial services, technology, consulting, marketing, and brand management sectors. For those considering those fields, this program provides a fantastic opportunity to learn from leading industry professionals.
KPMG Future Diversity Leaders: Future Diversity Leaders (FDL) begins with a three-day, annual summer leadership conference in Hollywood, California, focused on preparing high-achieving diverse students to be the business leaders of tomorrow. Students who successfully complete the leadership conference receive $1,000 scholarships and the opportunity to interview for summer internships in their office of interest.
KPMG Leadership Edge - These innovative national and local summer programs offer students fabulous opportunities to network with KPMG professionals get a head start on the KPMG campus recruiting process and explore career opportunities with KPMG. Opportunity to discover the world of brand management, corporate finance, and sales at their annual undergraduate and graduate internship recruitment weekends. Over the course of the weekend they give the chance to network with senior internship program.
Microsoft Finance Leaders in Technology Workshop: The Finance Leaders in Technology Workshop (3 days in June) is a highly selective program focused on giving top undergraduate students the opportunity to strengthen their leadership skills and learn more about corporate finance while gaining exposure to Microsoft, one of the Eligibility: Sophomore, majors: Finance, Economics, Accounting or other Finance related majors; 3.0 or higher. Prepares students for Finance Rotation Program (FRP). For more information contact Keisha Beverley at keishab@microsoft.com.
Explore Microsoft Program: Explore Microsoft is a 12-week summer internship program specifically designed for college underclassmen (freshmen and sophomores) and offers a rotational experience that enables you to gain experience in our different software engineering roles.
Price WaterhouseCoopers Challenge Case Competition:  (Freshman - Junior) Join nearly 5,000 other students from 100 colleges and universities, learn more about strategic issues companies all over the world are facing and compete for cash prizes at the local and national levels.
Price WaterhouseCoopers Launch: You'll experience an innovative and experiential-based curriculum coupled with  leadership skills, team building, and personal enrichment sessions, along with the opportunity to connect with PwC interns, partners, and principals from across the United States and across the PwC global network of member firms.
Price WaterhouseCoopers Start: Utilize your problem solving, analytical, research and organizational skills to understand our business and assist teams in real life projects focused on knowledge management, serving our clients, and internal firm services initiatives that support PwC's business development
Procter & Gamble Emerging Leaders in Information Technology Experience (ELITE) Seminar:  At the ELITE Seminar you will learn how Information Technology (IT) drives business and creates value at P&G by working alongside P&G employees and applying your IT/business knowledge to provide recommendations to real life Information Technology issues. You will have the opportunity to interview for an internship for the summer of 2017 upon completion of the seminar.
Procter & Gamble Freshman Leadership Forum: This program is designed to reach top diverse students and others in their freshman year of an undergraduate degree.  The objective of the forum is to expose students early to the type of opportunities available in our different Career Areas. You will interact with other top undergraduate students from all over the country as well as have the chance to speak candidly with P&G managers about their work and our P&G culture.
Procter & Gamble Consumer Strategy Workshop: This is a learning experience that focuses on what it means to drive consumer insights into business strategy on brands like Tide, Pantene, and Crest at Procter & Gamble. We are looking for top-tiered diverse students or any 2017 graduates who meet eligibility requirements. It is an excellent opportunity to interact with a diverse group of top students from across the country, as well as current CMK managers and affinity group leaders. Students chosen to participate will be our guests in Cincinnati; P&G will cover all travel and lodging expenses.
Procter & Gamble FACT (Finance, Accounting and Tax) Seminar: FACT is a 4-day, all expenses paid, early reach program designed to expose top undergraduate students to P&G Finance, Accounting and Tax opportunities. This program is designed to attract top-tiered diverse students with demonstrated leadership skills as well as other students meeting eligibility requirements.
Procter & Gamble Human Resource Leadership Summit:  The Human Resources Leadership Summit provides a 3.5 day, all expenses paid, in depth look at P&G Human Resources. This highly selective program was created for top-tiered undergraduate students in their sophomore year of study. This program is specifically designed to attract diverse students as well as other students meeting eligibility criteria requirements. You will learn more about P&G and the key roles that you could play as an HR professional. You will interact with P&G Executives and recent HR hires. Additionally, you'll learn more about the city of Cincinnati as well as other domestic and international locations where P&G operates. Finally, you'll have the opportunity to meet and network with other top students from across the country.
Institute for Responsible Citizenship: The Institute is a summer leadership program for talented African American male college sophomores. Students who participate in this program receive high-level internships based on their career interests, take rigorous courses on constitutional principles and economics, and attend round-table discussions with influential leaders in the public and private sectors.
Wells Fargo Early Talent Programs for Undergraduate and MBA Students! Numerous program roles at the internship or full-time level may include but are not limited to Audit, Finance, Corporate HR, Wealth and Investment Management, Investment Banking/Sales & Trading, Corporate & Commercial Banking, Technology and Operations Group and Community Banking.
Yale Global Pre-MBA Leadership Program: The program will develop your practical knowledge of business and management in a global context, and inspire you to draw upon your leadership abilities in order to make a positive impact in your personal and professional endeavors. It introduces you to the impact of management education and give you the tools necessary to hone your individual leadership skills. This is a two-week program for recent graduates from cultural backgrounds under-represented in graduate management education; the Global Pre-MBA Leadership Program will help you learn more about global business while introducing you to the benefits of an MBA degree.
Yale Pre-MBA Fundamentals of Management: This is a Yale Pre-MBA Program hosted at Yale Center Beijing, in August.  This two-week program for recent graduates (with less than three years of professional experience) and current university students who aspire to become global leaders for business and society will help you understand global business and hone your leadership skills, while exposing you to the rigor of MBA training.
Professional Organizations and Annual Conferences
Students are encouraged to participate in a wide range of professional annual conferences to develop not only their professional skills but to gain networks and contacts within their future profession.  Please also note that many of these organizations offer scholarships or discounts to students interested in attending the annual conference.  Here are a few professional organizations to consider.